Letters For My Sisters
LETTERS FOR MY SISTERS is an anthology of collected wisdom by and for transgender women. This groundbreaking collection of letters tells raw, heartfelt stories of childhood, transitioning, and becoming women in a world where acceptance is sometimes elusive and costly. Brave, boldly vulnerable and revealing, this collection adds to a growing body of literature where trans p
Bereft
Rafael Fannen is a 13-year old boy who has won a minority scholarship to Our Lady of the Woods, an all male Catholic college preparatory school. He lives with his mother who is chronically ill with an undiagnosed illness and also suffers from mental illness, which no one will discuss. Winning the scholarship quickly turns into a nightmare, as Rafe has to deal with the raci
Show Trans
A nonfiction novel about sex addiction, sex work, navigating the MSM scene, a trip West, dissociative identity disorder, and the struggle to find love, connection, and self-actualization as a non-binary trans person. This book is DeLines most autobiographical (and arguably scandalous) work to date.
Cutthroat Crusades(The Plundered Chronicles 4)
For years Quinn Gallagher has lived a double life, both as a noble woman and a fierce pirate. The unspeakable things she's had to do just to survive now lead her to turn her back to the sea as part of a quest to find who she truly is.Her former crew, however, refuses to let her abandon them—not when they need her help now more than ever. If she is to save her sea-faring f
Not Every River
It's the hottest city in the U.S., and it's not just the weather that's heating up.Kim Gatlin, ambitious archaeologist and college professor, is taking the spring semester off to do a survey of a remarkable rock art site in Yuma, Arizona. The wild remote desert also holds gun-toting locals and desperate refugees, but the biggest hazard proves to be Bureau of Land Managemen
Annas Country
Arriving in a small town in Upper New York State with her husband and children, Anna Johnson is befriended by her neighbor, nursery owner Hope Alford. When Anna is brutalized by her husband it is to Hope that she flees for shelter, tries to heal herself within Hopes protection.The women leave on a camping trip, and during a storm-ravaged night, Anna discovers Hopes arms
Desolation Point(Desolation Point Tumbledown 1)
Hes going to find me, Sarah whispered. Hes going to find me before you do.One wrong step in Los Angeles leaves Alex Pascal scarred and traumatized, unable to continue the career she loves.In England, a drunk driver shatters Sarah Kent's family.For Sarah, exploring the North Cascades is an opportunity to regain her health and her confidence, while Alex has already aba
Transformed: San Francisco(Charley & Electra 1)
Charley McElroy is a handsome, well-heeled travel writer and CIA informant who also happens to be an F to M transman. And he's having a midlife crisis.Charley gets suspended by the Agency after forgetting to pay his taxes. Only days earlier, yet another marriage proposal has been spurned. In his grief and confusion, Charley befriends Electra, a high-powered Manhattan socia
Accepting Me
Sixteen-year-old Shanes friends are constantly talking about their boyfriends or girlfriends, and about sex. His parents keep asking him why he doesnt date. Shane isnt interested in romantic relationships at all and cant see what the fuss is all about. All he wants is for his family and friends to understand and accept him the way he is.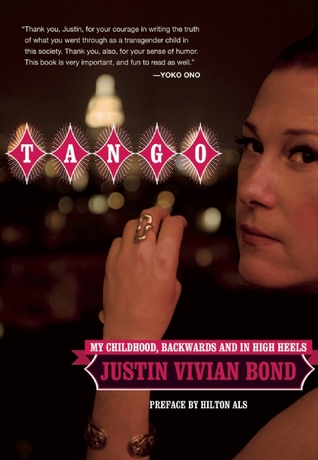 Tango: My Childhood, Backwards and in High Heels
Like Bond, the memoir is droll, pensive and filled with zingers teetering between funny and ferocious.—The New York TimesHailed as "the greatest cabaret artist of [V's] generation" in the New Yorker, Mx. Justin Vivian Bond makes a brilliant literary debut with this candid and hilarious coming-of-age tale.Bond recalls in vivid detail how it looked and felt to first discov
1
2